English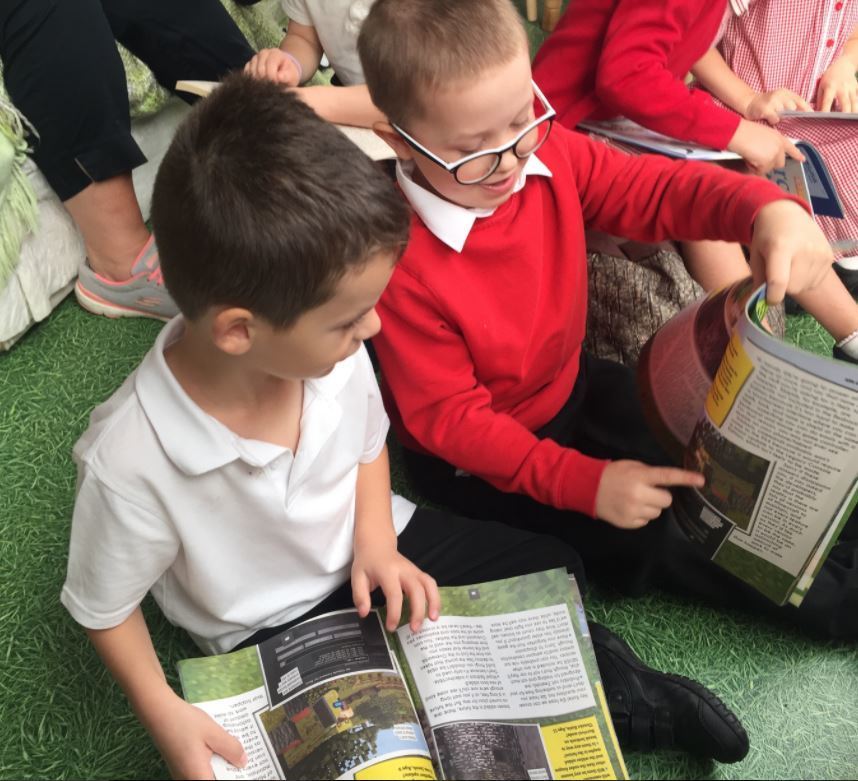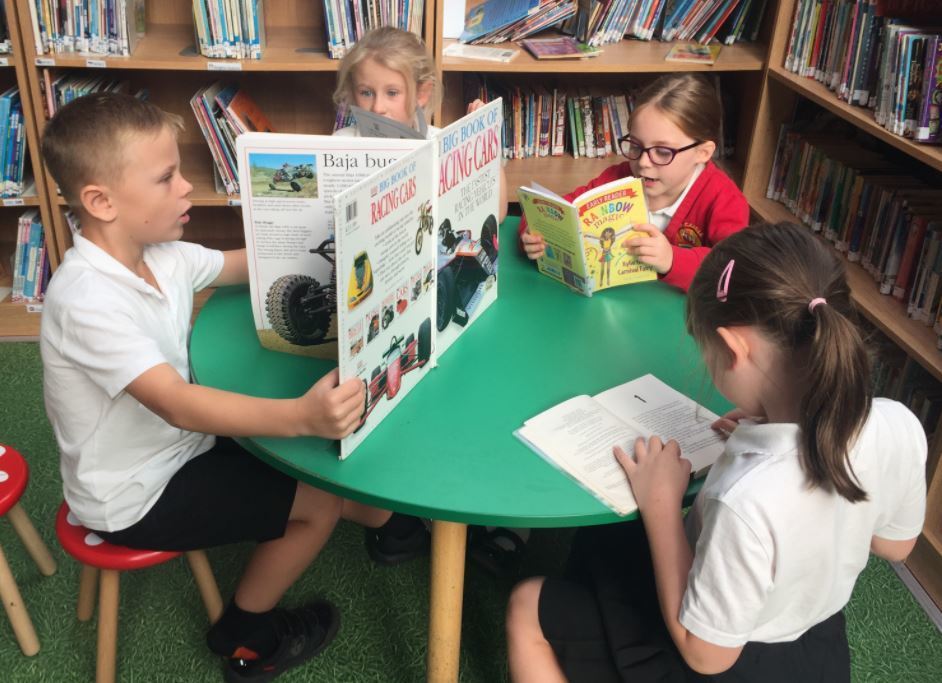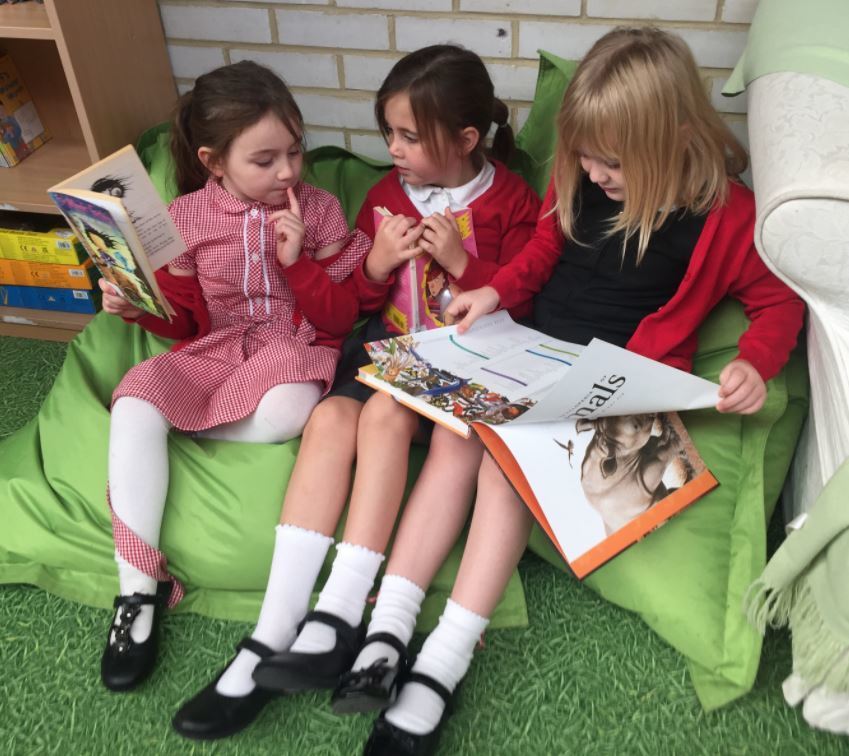 Reading:
At New Cangle we develop children's love of reading through a book-led curriculum. We teach units of lessons that are structured around motivating class readers, plays or poems or non-fiction texts.
Whole class reading sessions are taught daily. Teachers model the reading process to the whole class as an 'expert' reader. Teachers model their thought process, explaining how and why they change their tone/intonation/speed/emphasis when reading. In KS1, when modelling reading, pupils are encouraged to join in (choral reading). In KS2, children have access to the text either individually or with a partner. The children follow the text as the teacher reads and occasionally read out loud. Listening to longer or more complex texts than they would be able to read alone increases children's knowledge and understanding and, along with the rich vocabulary they encounter, develops their reading comprehension.
Phonics:
At New Cangle, early reading is taught using synthetic phonics. Pupils are systematically taught the phonemes (sounds), how to blend the sounds in order to read words, and how to segment the sounds in order to write words. They are taught to use their phonic skills and knowledge as their first approach to reading, but are also taught high frequency words that do not follow the phonic rules. We call these 'tricky words'. The school begins teaching phonics using the 'Letter and Sounds.' programme. In EYFS, multi-sensory Jolly Phonics pictures, songs and actions support this.
Reading in EYFS & KS1:
In EYFS and KS1 each class follow colour banding book levels for individual readers. Teachers listen to children read making reading assessments to establish which level children are reading at and when they are ready to move to the next level to maintain the right level of challenge. Children progress through the banded colours as they gain confidence and show understanding.
The chart below highlights the expected colour level children should aim to work through in each year group: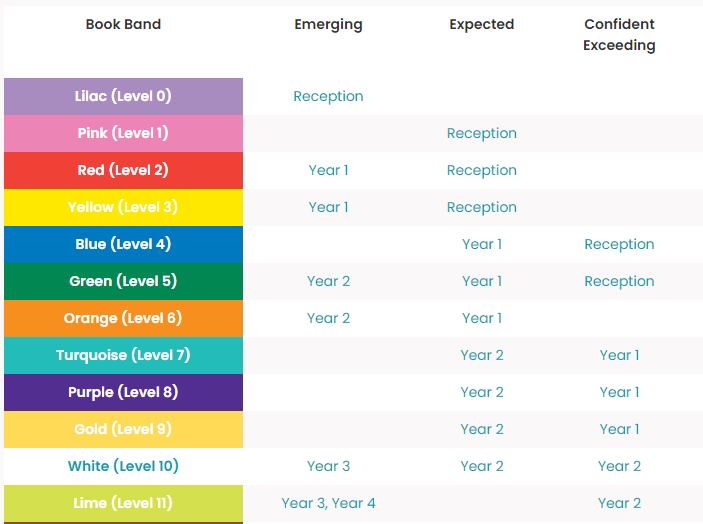 Accelerated Reader (AR):
Children in years 3-6 complete a Star Reader Assessment. Following the assessment children are given a ZPD (Zone of Proximal Development). This is an assessment of their reading ability and will generate a reading range at which they are able to read independently. A child's ZPD is not a reading scheme level and children do not need to work through their ZPD. They are encouraged to choose a text that they are interested in, that is within their ZPD range. Once children have finished reading their book, they take a quiz. 85% is the quiz pass rate. If children are regularly scoring 100% on their quizzes they should be encouraged to either: move up their ZPD; to choose a different genre/author; or to choose a non-fiction text to encourage development and growth.
Writing:
Writing is an essential part of our curriculum offer and of high importance at New Cangle. In EYFS children learn how to hold a pencil correctly and begin to form letters, words and simple sentences. From Year 1, children are introduced to a joined style of handwriting as soon as the child is able to correctly form letters, with the expectation that from Key Stage 1 most will be able to write neatly and fluently.
The teaching of writing in our school stems from a text-led writing approach alongside explicit teaching of spelling, grammar and punctuation. Children will develop the stamina and skills to write at length. They will build on what they have been taught to expand the range of their writing and the variety of the grammar they use. The writing they do will include narratives, explanations, descriptions, comparisons, summaries and poetry. The children are continuously being encouraged to plan, draft and edit their work.
Recommended Apps/Websites:
http://literacyapps.literacytrust.org.uk/category/reading/
https://www.topmarks.co.uk/english-games/7-11-years/spelling-and-grammar
https://www.bbc.co.uk/bitesize/collections/primary-games/1
https://learnenglishkids.britishcouncil.org/fun-games
English is led by Mrs Dickenson, who is especially passionate about teaching children whole class reading.